New post on bioRxiv! Insect wings and body wall evolved from ancient leg segments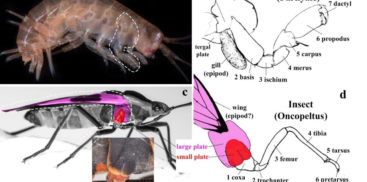 Heather and Nipam posted a preprint on bioRxiv entitled "Insect wings and body wall evolved from ancient leg segments" which you can check out here: https://www.biorxiv.org/content/early/2018/01/09/244541
Abstract
Researchers have long debated the origin of insect wings. One theory proposes that the proximal portion of the ancestral crustacean leg became incorporated into the body, which moved the leg's epipod (multi-functional lobe, e.g. gill) dorsally, up onto the back to form insect wings. Another theory proposes that the dorsal insect body wall co-opted crustacean epipod genes to form wings. Alternatively, wings may be derived from both leg and body wall (dual origin). To determine whether wings can be traced to ancestral, pre-insect structures, or arose by co-option, comparisons are necessary between insects and arthropods more representative of the ancestral state, where the hypothesized proximal leg region is not fused to the body wall. To do so, we examined the function of five leg gap genes in the crustacean Parhyale hawaiensis and compared this to previous functional data from insects. Here we show, using CRISPR-Cas9 mutagenesis, that leg segment deletion phenotypes of all five leg gap genes in Parhyale align to those of insects only by including the hypothesized fused ancestral proximal leg region. We also argue that possession of eight leg segments is the ancestral state for crustaceans. Thus, Parhyale incorporated one leg segment into the body, which now bears the tergal plate, while insects incorporated two leg segments into the body, the most proximal one bearing the wing. We propose a model wherein much of the body wall of insects, including the entire wing, is derived from these two ancestral proximal leg segments, giving the appearance of a dual origin. This model explains many observations in favor of either the body wall, epipod, or dual origin of insect wings.
It's already receiving some great responses online,
Game changing insights on the origin of insect wings, from this incredible #evodevo #CRISPR paper on crustacean limb homology. https://t.co/z1MZst75gT pic.twitter.com/Lt1a2zWdQo

— Arnaud Martin (@evolvwing) January 12, 2018
Me, one hour ago to my #ENVS3090 class: There are two theories on how wings evolved, but no great evidence for one over the other.
Just now: https://t.co/udcJVtRW3z

— Morgan Jackson (@BioInFocus) January 11, 2018
Hot off @biorxivpreprint! My lab used CRISPR-Cas9 to functionally examine leg gap genes, providing evidence that insect wings & body wall evolved from ancient leg segments. Awesome job Heather Bruce & Nipam Patel https://t.co/FUYSpw1QIo pic.twitter.com/ihmOCy1aN4

— Aaron Pomerantz (@AaronPomerantz) January 11, 2018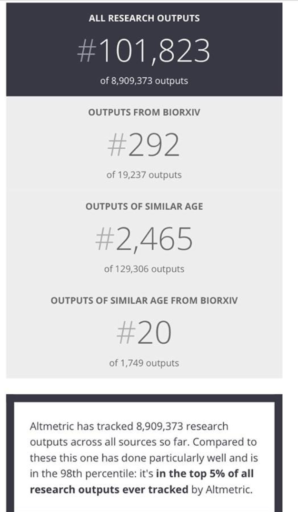 Out of nearly 9 million research papers "this one has done particularly well and is in the 98th percentile: it's in the top 5% of all research outputs ever tracked by Altmetric"
Well done Heather and Nipam!